Do you like to visit North Myrtle Beach, SC? Maybe you are considering a vacation to NMB. This site was created as a resource for NMB and a way to draw attention to some of my favorite businesses and merchants located here. I live here, work here, play here and dine here every day. Please explore this website for places and things do at the beach. I hope that you will Explore North Myrtle Beach here at ExploreNMB.com and come to love this beach as much as I do. Happy Exploring!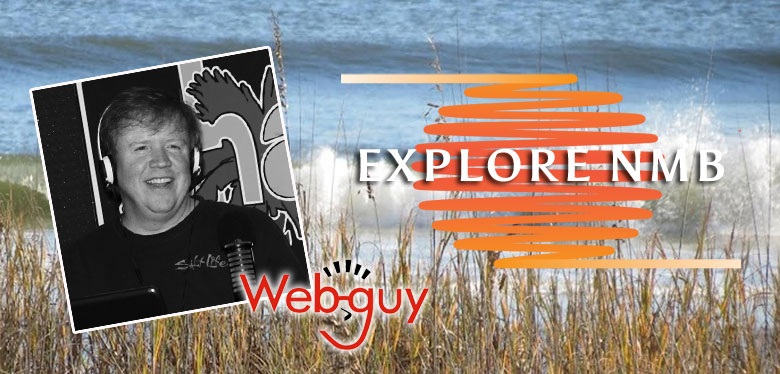 Who is behind Explore NMB?
My name is Bo Gilbert. Many call me "Bo the Webguy". I moved to this area back in 2010 after visiting North Myrtle Beach for years. Due to my passion for Carolina Beach Music, you will probably see my face and my name on many of the beach music sites across the web. I started working with many of the bands and clubs that play beach music before I moved to the beach. The merchants, businesses, products and services you see on this website are helping to support this NMB website. They are here because they are supporting my mission to promote North Myrtle Beach's events, businesses, attractions, restaurants and lifestyle. Please let me know if you have any questions.
Website Questions,  FAQ and Comments
Please feel free to comment with suggestions on what should be added to this site. It is a new site. I started with some of the businesses and companies that have worked with me in the past several years. Some have just recently started working with me…either through my beach music connections or my marketing consultant gig at Grand Strand Marketing Group.
This site is all about promoting North Myrtle Beach. You may see some businesses that exists in the cities and towns surrounding NMB. There is a lot to do on the Grand Strand area of South Carolina. Occasionally, I know that you may explore outside of the city limits of North Myrtle.
Why are some restaurants listed on this website and not others?
For starters, this is a relatively new website and I have chosen to feature some of the ones that are currently working with me or one of my associated companies.
Are you going to be adding new businesses?
Of course! My plan is to continue to introduce and feature great places I have found in North Myrtle Beach. My goal is too promote North Myrtle Beach as the place to go for beach vacations. There are a lot of choices when it comes to dining, entertainment, golf and shopping. This is my resource guide for NMB!
How do I get my business listed on ExploreNMB.com?
Use the contact form and we will contact you with how to get featured on this website.
How can I build a website like ExploreNMB?
Take a look at some these business resources.
..