83 degrees and partly sunny with a high of 89  is what is showing on my weather widget.
Happy Sunday Friends,
It is going to be a big day in North Myrtle Beach. Are you looking for things to do on Sunday, August 1st?
Too Much Sylvia is at the OD Pavilion today at 1pm. DJ Jim Rose will keep the music playing at the ODP after the band.
Head down to Deckerz to see Cat5 at 3pm
The Tim Morris Benefit with the Band of Oz is at the Galleon tonight at 6pm.
There are a lot of options to see Live music in NMB – Take a look at Ray's list posted originally at Friends of NMB. Thanks Ray!
Ray's List for Sunday 8-1
Creampuffs & Bourbon at Local 12PM
Joan Burton at Patio's 12PM
Cornhole Tournament at Castaways 12:30
Too Much Sylvia at OD Pavilion 1PM
Trey Calloway at Boardwalk Billy's 1PM
Rory Zak at Ocean Annie's 1PM
Ronnie Coco at Taco Mundo 2PM
The Cat 5 Band at Deckerz 3PM
Root 65 at Murphy's 3PM
Paul Grimshaw at Capt Archie's 4PM
Charlie Snuggs Crooked Hammock 4PM
Randy Atwood at Patio's 4:30
Tammy Barbour at Duck's-Sidewalk 5PM
Southside Band at Ocean Annie's 5PM
Dustin Brown at Lulu's 5PM
Steve and Susie Pethel at Martini 5PM
Tim Morris Benefit at Spanish Galleon 6PM
Craig Beaumont at Marina Bar 6PM
Leroy's All Starz at Local Bar 7PM
Randy McQuay at Grumpy Monk 6PM
Julio Navarro at Nacho Hippo 6PM
Good Time Charlie's at Bouy's 6PM
Perlino at Boardwalk Billy's 6PM
Miracle Max at Callie Baker's 7PM
If Birds Could Fly at Dockside Village 7PM
Karaoke at OD Arcade 8PM
Open Mike at Jay's LR 8:30
Spellbound at Duck's 9PM
Tonight Band of Oz at the Galleon!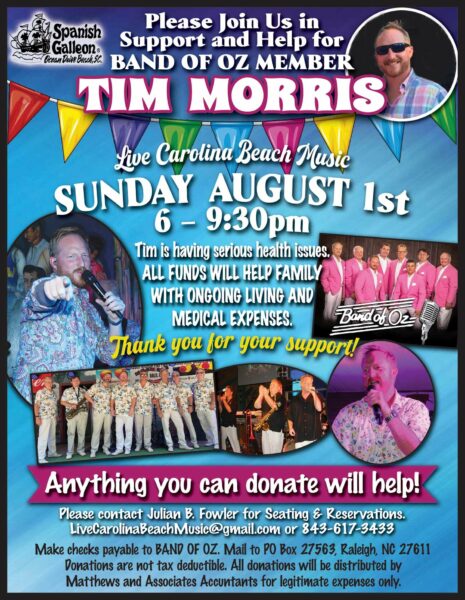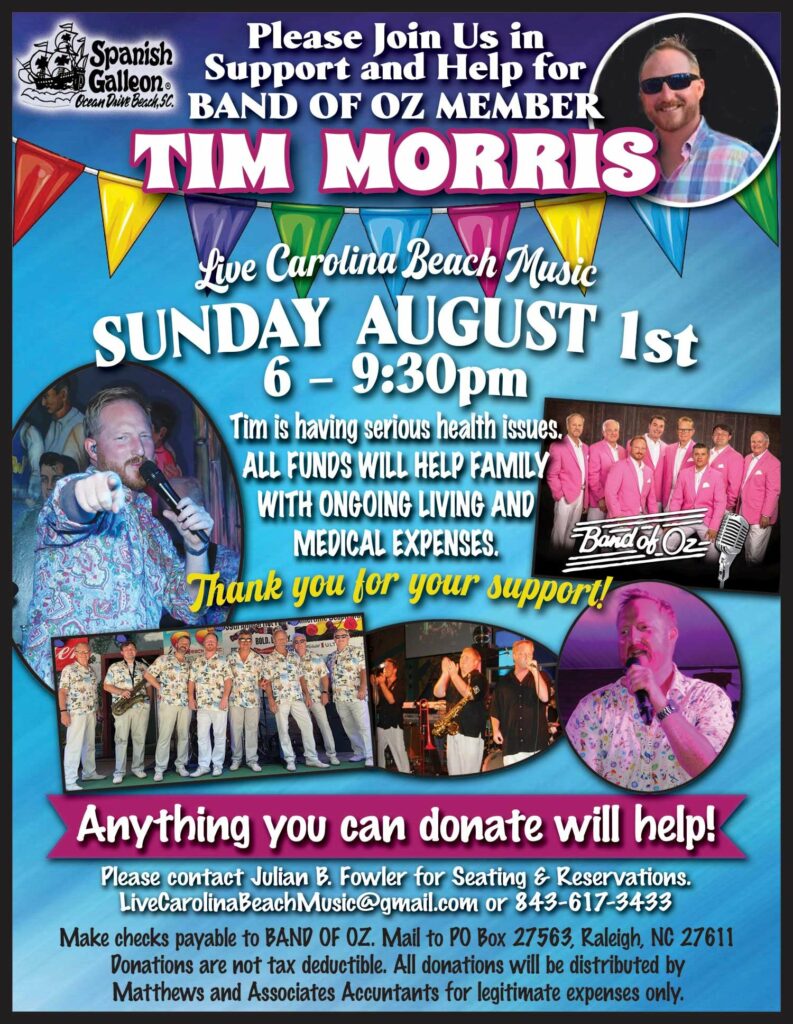 Want to help Tim out? click here