Hello Friends,
Here is a list of things to do in North Myrtle Beach on Saturday, October 9th.
Jim Quick's Swamp Soul Show is brought to you by Zaxby's! It can be heard on Riptide Radio at 9am EST. Get some Swamp on ya this morning. If you have not tried the chicken sandwich at Zaxby's, then you need to go by the North Myrtle Beach Location . Tell the Jim Quick Sent Ya. Dining Room is Open! Dine in or Drive thru today from 10:30 am to 9pm.  The show airs on several radio stations this weekend – check out swampsoul.com
This morning at 10am EST, listen to Mike count down the top 25 songs in Beach Music as voted by the listeners.  The Surf Countdown with Mike Worley on 94.9 The Surf plays on 94.9FM in the Grand Strand and 949thesurf.com all over the world.
Dan Summitt will be kicking things up on the deck at Deckerz today beginning at 3pm – Go See Dan – Watch out for shots! He may make you famous and shoot your picture for ODmafia.com
If you are over the age of 21 and near A & S Liquors today from 3 to 6, stop in for a free tasting of Onda. Learn More
Jimmy Buffkin will be playing music in the front room at Harold's Tonight at 6. Rommie Tyndall will be in the Back at 7. The Grill is open at 11am for lunch at Fat Harold's Beach Club.
DJ Jerry Burrage will be spinnin' some shag tunes at the O.D. Pavilion today at 3pm.
The Shrimp Fest in Little River is going on today and tomorrow – see schedule below.
Ray has provided this huge list for today – check it out
Ray's List for Saturday 10-9
Bailey Morrison at Duplin Winery 12PM
Randy Atwood at Daddio's 12PM
Joan Burton at Patios 12:30
Backline at Ocean Annie's 1PM
If Birds Could Fly at Pilot House 2PM
Jason Owens at Duplin Winery 3:30
Fabulous Fisheads at Patio's 4:30
Southside Band at Ocean Annie's 5PM
Steve and Susie at Martini 5PM
Nick Andolora at Filet's 5PM
Elliot Smith at Lulu's 5PM
Jimmy O at Wine Therapy 5PM
Christina Black at Duck Dive 5PM
Jolly Mon & Deb at Buoy's 6PM
Jeremiah Reyes at Nacho Hippo 6PM
Mike Sheets at Baron's 6PM
Michael Coe Band at Murphy's 6PM
Janko Wineheart at Flynn's 6PM
Stuart Prichette at 39th Ave Bar 6:30
Coastal Sounds at LandShark 7PM
Sunburst Radio at Sugrue's 7PM
Rodney Millsaps at Deckerz 7PM
Bailey Road at Roca Roja 7PM
Tim Elliot at Captain Archie's 7PM
Jason Ray Welch at Star Tavern 7PM
Pale Horse at Boardwalk Billy's 7PM
The Renegades at Local Bar 7PM
SOCO at HoB Deck 7PM
Harlequin Duo at Mulligans 7PM
Kellie J and Larinzs at Marina Bar 7PM
Diversity at Whiskey Beach 8PM
Brian Ernst at Bar 19 Twelve 8PM
The Peeples Project at OD Lounge 8:30
Jan Michael Fields at Duck's 9PM
Chocolate Chip at Club Rewind 9PM
Brad Long & Gary Baker at Bourbon Cowboy 9PM
DJ Brooklyn @ Club Envy 10 PM
Not sure where these places are? Click on the
NMB Map
---
Little River Shrimp Fest
Saturday Oct 9 in Little River
Main Stage:
11:15 AM Bacon Grease
1:15 PM Craig Sorrells Project
3:15 PM Leroy Harper & the Allstarz
Front Gate:
11:00 AM Alex Austin
1:45 PM Billy King
Side Stage:
12:45 & 2:45 PM Brian Ernst
Sunday Oct 10 in Little River 
Main Stage:
11:30 AM Mystic Vibrations Reggae Band
1:00 PM Whiskey Run
3:00 PM Miracle Max & the Pet Monsters
Front Gate:
11:00 AM Joshua Jerald
1:45 PM Ronnie Coco
Side Stage:
11:00 AM, 12:30 & 2:30 PM Brian Ernst
---
Have a Great Day in NMB and the Grand Strand!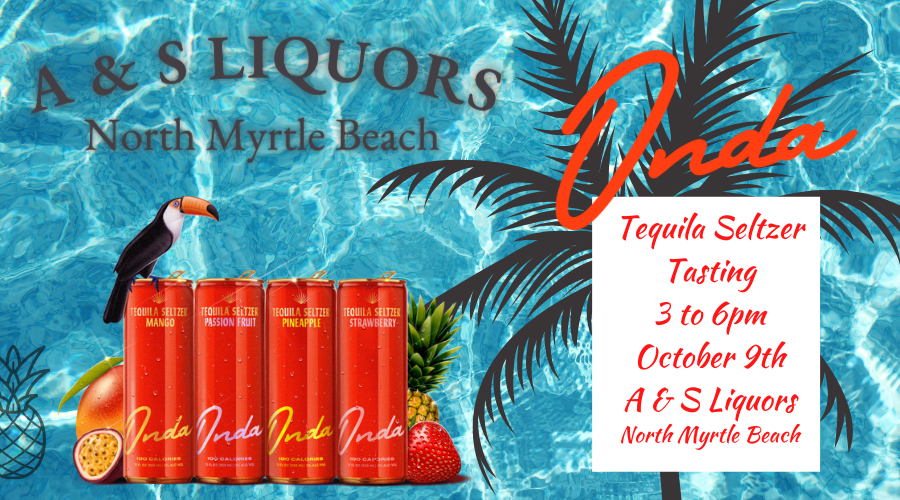 Visit A & S Liquors – North Myrtle Beach