When it comes to hotels in North Myrtle Beach, you have a lot of choices. The cost of the hotel room is almost always the deciding factor for people that come to vacation in NMB. Other factors that could affect your decision are events that you may be attending, the proximity to attractions, oceanfront locations, luxury accommodations, efficiency accommodations, loyalty rewards or points.
For some – a hotel is the way to go. Of course you can also check out Vacation Rental homes and Condominiums. Please click and see other NMB lodging options here at ExploreNMB.com.
If you are set on staying in a hotel, some things you want to think about are listed below.
Cleanliness
Of course you probably want CLEAN hotel rooms, but if it's really cheap.. you may find it not to be to your standards. Make sure you do the research, cheap hotels are almost always sub-standard when it comes to cleanliness. There are review sites all over the web. The best place may be your friends, ask them where they stay and what they thought the last time they came to North Myrtle Beach.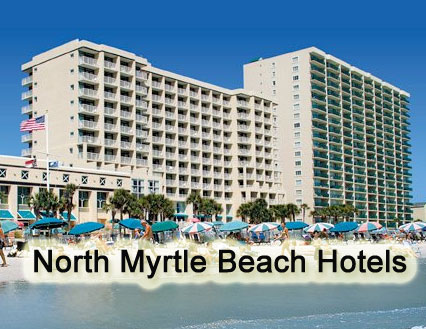 Oceanfront Location
Almost everyone I have ever spoken with that comes to the beach on vacation would love to be oceanfront, but with that location.. you can expect to pay a premium price. High-rise condos offer great views of the ocean, there are some good deals if you catch them on the right time.
SOS – Society of Stranders
If you are heading to NMB for SOS – the 10 day parties in Spring and Fall, you may want to be as close to Main street as possible to cut down on driving or taxi cab costs. Its nice to be able to walk back and forth to Main street, but the nice hotel rooms within walking distance fill up fast. You can also expect to pay a slightly higher price than normal. Supply and Demand applies to NMB Hotels.
Hotel Chains
Of course, North Myrtle Beach features many of the big hotel chains. You can expect to find Best Western, Holiday Inn, Super 8, Comfort Inn, Quality Inn. Most of these tend to be away from the ocean and require car travel to get to the beach. The prices are better and most of them have reward programs for frequent stays at the beach.
Golf Vacations
If you are playing golf, you will probably be looking for the best package deal. Many of the hotels have deals with local golf courses and can probably put together a packages. That being said, the Internet is changing things a lot in terms of Golf Vacation Planning. With a little work, you may be able to put together a better package than the local golf directors and hotels.
Photo Credit Above: Picture is of the Ocean Drive Beach and Golf Resort in North Myrtle Beach located near Main street and Ocean Boulevard.