Hello Friends,
It is Tuesday, July 26th and here are some things to do in NMB today
Jim Morgan and JQ are playing tunes on 949thesurf.com today
The Surf Team will be at Harold's Tonight in the Back Room for South of the Surf Shag Party at Senor Fat Harolds from 6 to 9. Mandy and River will be teaching shag lessons at 7. Eddie Anderson is in the front room from 6 until.
Ray's List for Tuesday, 7-26
Timmy at Duplin Winery 12PM
Benny Nations Karaoke at Murphy's 12PM
Clean SL8 at Ocean Annie's 2PM
Cyndi Wheeler at Duplin Winery 3:30
Karaoke w/Jessy at Patio's 4:30
Stan Gregory at Martini 5PM
Charles Freeman at Lulu's 5PM
Scott Watkins at Brentwood 5PM
SCE at HOTOs 6PM.
Ronnie Clinton at Bouy's 6PM
South of the Surf Shag Party at Fat Harold's 6PM
Tammy at Duck's Sidewalk 6PM
Chris Cary at Flynn's 6PM
Taylor Richardson at Archie's 6PM
at Murphy's 6PM
Lancaster Road at Duck Dive Bar 6PM
Bear Baker at Landshark 6PM
Dale Mosher at Marina Bar 6PM
Matt Doda at Nacho Hippo 6PM
Randy Atwood at Cooper's 6PM
Joan Burton at Daddio's 6PM
Groovin' Organ Trio at KWC 6PM
Jimmy Roca at Local Bar 6:30
Larry Stevens at Maxwell's 6:30
Frankie Moree at Deckerz 7PM
Mike Waters at Boardwalk Billy's 7PM
Doc Simons at Dockside Village 7PM
The Mercenaries at Star Tavern 7PM
Murder Mystery Dinner at HoB 7PM
The Deacons at Ocean Annie's 7PM
Prince Azariyah at OD Arcade 8PM
Make it a Great Day in NMB!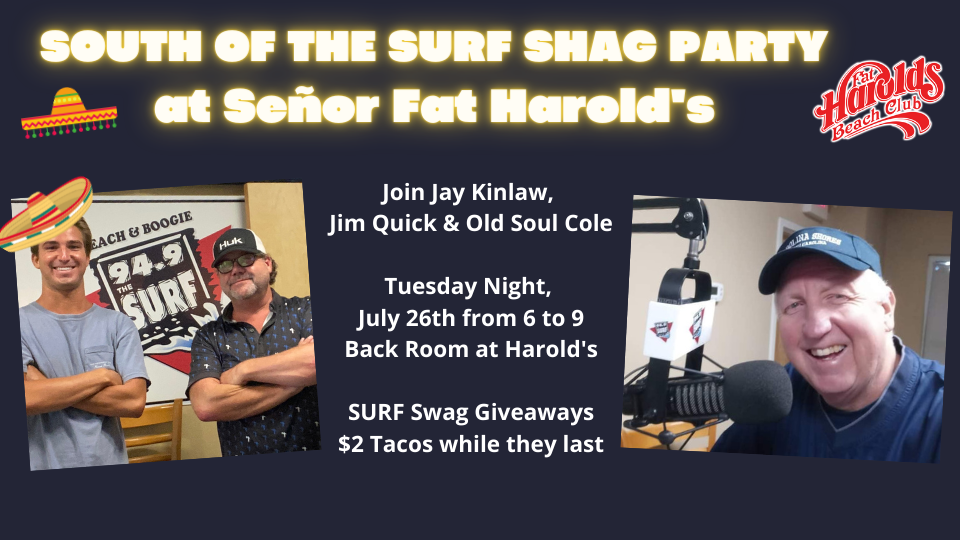 Beach Music Fans – See the Band Schedules Page at BeachMusicOnline.com